MULTI COLLAGEN CAPSULES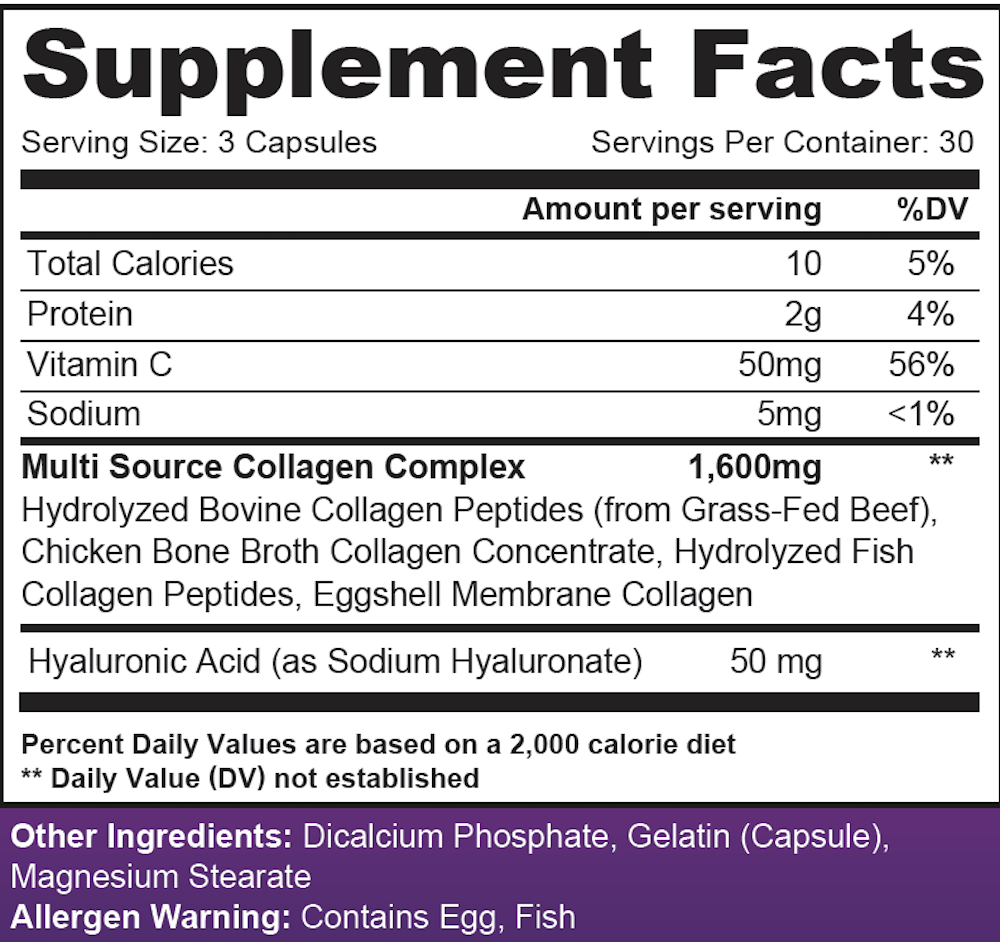 Take at least one serving (3 capsules) once daily with a glass of water. To enhance results, take two servings (6 total capsules) each day. MCC can be taken with or without food.
We offer
free
shipping for all domestic USA orders!
All domestic orders ship within one business day via USPS or UPS from our warehouse in eastern Pennsylvania. Most orders are received in
2-4 business days
.
Tracking information is sent via email from
hello@vitauthority.com
once your order is processed.
With 5 types of collagen (I, II, III, V & X) plus Hyaluronic Acid & Vitamin C, our Multi Collagen Capsules pack a powerful anti-aging punch in every serving.  
Free of: Dairy, Gluten, Soy, Dyes or Sulfates
COLLAGEN MEETS CONVENIENCE
Not a fan of collagen powder but LOVE the benefits of collagen?
We took our top-selling 5-Type Multi Collagen blend and infused it with Hyaluronic acid and Vitamin C for a collagen capsule formula that gets the job done. With just 3 capsules per day, our Multi Collagen Capsules help turn back the clock and fight aging by supporting and restoring youthful skin, hair, nails, bones, and joints.
GOING BEYOND COLLAGEN
Each serving of our Multi Collagen Capsules are fortified with...
"At first I was skeptical that these could be just as good as the Multi Collagen Powder, but to my surprise - they work great! They're very convenient and I recommend them to all of my clients since some of them are picky when it comes to adding powders into their coffee, and they all love the skin, joint, and hair benefits that come with them. The additional hyaluronic acid and vitamin C was a great idea to make sure they're just as effective as collagen powders, too. I like using both the Multi Collagen Peptides powder and these capsules together to make sure I'm getting the most amount of collagen support!"
- Alexa, 30
Owner of 6 Week Shred
SEE WHY THOUSANDS ARE CHOOSING VITAUTHORITY DAILY
MULTI COLLAGEN CAPSULES VS OTHER COLLAGENS*
BENEFITS OF MULTI COLLAGEN CAPSULES
Youthful, Vibrant Skin
Collagen supplementation helps increase skin flexibility and hydration, which helps to smooth wrinkles and increase tone and firmness of the skin. Collagen has been studied to help reduce cellulite, too, by improving skin elasticity.
Strengthen Joints & Bones
Daily collagen supplementation is commonly used to help strengthen tendons, joints, and ligaments. Research has shown (especially with Type II Collagen) that collagen can alleviate joint pain, stiffness and inflammation, as well as help improve flexibility.
Boost Lean Muscle Mass
Collagen protein contains the amino acids essential for the human body to repair and rebuild damaged muscle and connective tissue, leading to increased lean muscle and improved metabolism.
Support Healthy Hair & Nails
Adding additional collagen has been shown to help grow stronger, longer, healthier hair and nails. Strengthened roots and faster nail growth are common with collagen supplementation.
Help Improve Weight Loss
The protein in collagen is more filling than other proteins, which helps satisfy appetite and avoid cravings. The amino acid profile is great for supporting lean muscle mass, too.
Maintain A Healthy Gut
Collagen contains many essential amino acids, such as glutamine, which is the most abundant free amino acid in the body. Glutamine and alanine help promote optimal gut and digestive health.
Each capsule is a size "0," which makes them on the below average end when it comes to capsule size. We purposely used a smaller capsule to ensure that the capsules were not "too big" and easy to swallow! All of our capsules are completely free of any dyes or artificial colors, too.
NEED MORE PROOF?
Read Over 650+ Verified Buyer Reviews By Scrolling Down
FIGHT AGING WITH 5 TYPES OF COLLAGEN
TYPE I COLLAGEN
+
Type I collagen is the most abundant form of collagen in the body and can be found in your tendons, skin, bones, cartilage, connective tissue, and teeth.
In another study, women supplementing with collagen peptides containing type I collagen were shown to have reduced cellulite and wrinkles.
TYPE II COLLAGEN
+
Type II collagen is mostly found in cartilage and plays an integral role in the health of your joints and tendons.
This makes perfect sense, as type II collagen contains constituents known to help with joint health, such as glucosamine and chondroitin sulfate.
TYPE III COLLAGEN
+
Type III collagen can be found in high amounts alongside type I collagen.
Type III collagen is also found in your muscles, organs, and a connective tissue called reticular fiber, which helps restore the gut and other tissues to ensure they are running smoothly.
TYPE V COLLAGEN
+
Type V collagen helps the formation of all cells, but especially cells in your hair, gut, and skin.
Type V collagen plays a critical role in the formation of fibrils for our cells and has been shown in research to help improve skin moisture retainment.
TYPE X COLLAGEN
+
Type X collagen has been shown to support new bone formation and tissues to help improve joint health, such as articular cartilage.
Type X collagen has been shown to be beneficial when it comes to bone healing, too!
THE VITAUTHORITY DIFFERENCE: QUALITY
4 NATURAL SOURCES
GRASS-FED BEEF
Made of mostly type I and type III collagen, bovine collagen comes from cows -- specifically their skin, bones, and muscles.
FREE-RANGE CHICKENS
Chickens are an excellent source of type II collagen, which is the ideal choice for those looking to improve their joint health.
WILD CAUGHT FISH
Marine based collagen is an excellent source of types I and V collagen and is specifically known to have benefits for the skin and gut.
EGGSHELL MEMBRANE
Eggshells contain many types of collagen: Types I, II, III, IV, and X. Eggshell collagen has been shown to have tons of joint, skin and wound healing benefits as well.
cGMP
Quality We are proud to say that all Vitauthority products are manufactured in the USA in a cGMP certified facility.
MADE IN THE USA
Each of our supplements are manufactured and shipped from right here in the USA.
Non-GMO
All Vitauthority products are free from any GMOs, Pesticides, Heavy Metals, or Contaminants.
Lab Verified
Every product is tested rigorously to ensure everything on the label is in there - nothing more, and nothing less.
HOW TO ENJOY
3 CAPSULES
WITH 8OZ OF WATER
AT LEAST ONCE DAILY
Is There a Money Back Guarantee?
Absolutely!
We'll refund your money even if you send us back an empty container!
Order now with confidence! If for any reason you don't think Multi Collagen is for you, we offer a 60-day money back guarantee. So if you don't love it, you can get your money back.
Try Multi Collagen for 60 Days Risk-Free
MULTI-COLLAGEN PROTEIN FAQ'S
How many scoops of collagen should I take per day?

We recommend 2 scoops daily for the best possible benefits!

What can I mix collagen into?

Almost anything! We recommend adding the powder to a cup first, then pouring a liquid on top of it, or, to your favorite recipe. Then stir, mix, and enjoy! Some popular choices are coffee, tea, milk, protein powder shakes, pancake batter, or oatmeal.

Is your collagen tested for heavy metals?

Yes! Our collagen is tested to be free of heavy metals, pesticides, or bacteria.

Does your collagen clump up?

There may be minor clumping when mixing collagen into colder liquids. This can be solved by either adding the powder first, then the liquid, or, by using a shaker cup where more vigorous mixing can occur.

How many grams of fat, carbs, or sugar is in your Multi Collagen?

There is zero grams of fat, carbs or sugar per serving in our Multi Collagen Protein. Just 7g of protein per scoop!

Do I need to take collagen everyday to see results?

Yes - we strongly recommend daily usage to see the best possible results.

I've heard that you can't take collagen Type II with other types of collagen and it will hinder absorption. Is this true?

This is false. Collagen types are similar to amino acids and do not compete for absorption - all the types get absorbed after being ingested, just like amino acids. One may be absorbed in a delayed fashion, but they are all absorbed and used to provide benefits.

Am I going to be placed in some sort of auto-ship or continuity scam?

No way! We've noticed a troubling trend with companies using shady "forced continuity" tactics to keep customers locked in to reordering a product.
While we offer subscription purchases for those who want consistent discounts and to not be bothered with remembering to reorder, you can cancel at any time by emailing hello@vitauthority.com.
If you choose not to subscribe, please choose the default option when adding your product to your cart: one-time purchase.

Absolutely! We have THOUSANDS of men who use our collagen everyday and love it for the hair, skin, and joint benefits!

Are your products made in the USA?

Yes! Every product is manufactured in the USA.

How long will it take my order to ship?

All orders ship within 1-2 business days! We offer same day shipping for all orders placed before 2:00 PM EST.

Where do you ship from? How long will it take to receive my order?

All orders are shipped in the USA! Specifically, from our state-of-the-art warehouse in Pennsylvania.
Depending on where you live, almost all orders are received within 2-5 business days barring delays from the United States Post Office.

*Vitauthority is not affiliated with any third party products or brands displayed and trademarks shown are the property of their respective owners. All information was found on respective brands websites.

/* */