Real People, Real Results
The fiber fix is so good. Even better warmed up. Just like warm apple cider! Not too sweet and no yucky aftertaste.
LOVE it! The flavor is so yummy and it has definitely helped with the bathroom issue. My diet lacks fiber so adding this helps so much! No cramps or (any) bad feelings that other products have given me and no bloating. Already purchased 2 containers but will be buying more when needed.
Really enjoying it so far! I was afraid it would keep me in the bathroom and interrupt my morning runs (no pun intended....LOL), but I have not had any issues.
I love it!! The apple flavor is awesome!! It defo works too!! And the packaging couldn't have been any funnier..It made my day
I am SUPER impressed with the new Fiber Fix!!! I just had my first serving and the taste is amazing!!! It is a very light apple flavor...not too sweet, but just right! two days in and no rushing to the bathroom. Thank you Vitauthority!
We're changing the way you "go" one scoop at a time and bolstering your gut health while we're at it. Get Fiber Fix'd and enjoy the go again.

Fiber Fix contains a key patented ingredient called Fibriss®. Fibriss® uniquely offers soluble and insoluble fiber in addition to polyphenols. Unlike traditional fiber options, Fibriss® tastes incredible, mixes easily, and is grit-free. 
Fibriss® contains soluble fiber which acts as a prebiotic, insoluble fiber which helps with regularity, and polyphenols which act as prebiotics for optimal gut health.

And unlike other brands that use ONLY psyllium husk, this blend offers a thriving environment for optimal gut health while also helping improve regularity to help stave off bloating, constipation and help you reach your weight goals.   

What's that mean for you? Easy wipes, more energy and a flatter stomach.

Benefits of Fiber Fix
Reduce Cravings*
Fiber helps support satiety, helping you feel fuller for longer. Doing so can help prevent overeating and help you achieve your weight goals.
Reduce Bloating*
The more regular you are, the less bloat and water retention occur. This also helps our bodies become more efficient at losing weight.
Stay Regular*
Feeling "backed up?" Fiber Fix can fix that and will have you feeling as light as a feather.
Metabolism Support*
The more efficient our gut is, the better our body's are at burning calories and maximizing their ability to let go of stubborn fat.
The Downside of NOT Taking Fiber Fix
❌ Constipation
❌ Like a "rock" is in your stomach
❌ Weight loss plateaus
❌ Uncomfortable bloating & lack of energy
❌ Poor gut microbiome
✅ Regular bowel movements
✅ Feeling light as a feather and your thinnest
✅ Consistent weight loss progress
✅ Reduced bloat, fully energized and ready-to-go
✅ Healthy gut where probiotics can flourish
Beware of the Competition
Most companies use just psyllium husk. Guess why?

It's cheap…. super cheap. And to be frank, we don't think it's the best ingredient on its own to help you stay regular. Psyllium husk unfortunately does not contain any resistant starches or insoluble fiber, which really just makes it good for one thing only: pooping.

We use Fibriss®, which contains soluble fiber acting as a prebiotic, insoluble fiber promoting regularity, and polyphenols that also function as prebiotics for optimal gut health.

Get all the regularity you need while also additionally boosting your gut microbiome and your overall health.

Quality First
✓ 100% Multi Fiber blend to optimize a healthy gut environment
✓ Sustainably Wild Harvested Organic Baobab
✓ Baobab is nutrient-dense, with one of the highest antioxidant profiles of any fruit on the planet
✓ Baobab is also a rich source of vitamin C, packed with calcium, iron, magnesium and potassium, and contains 50% dietary fiber which research has shown to be prebiotic in nature.
If for any reason you decide this product isn't for you, we offer a 60-day money back guarantee. (But we know you'll love it)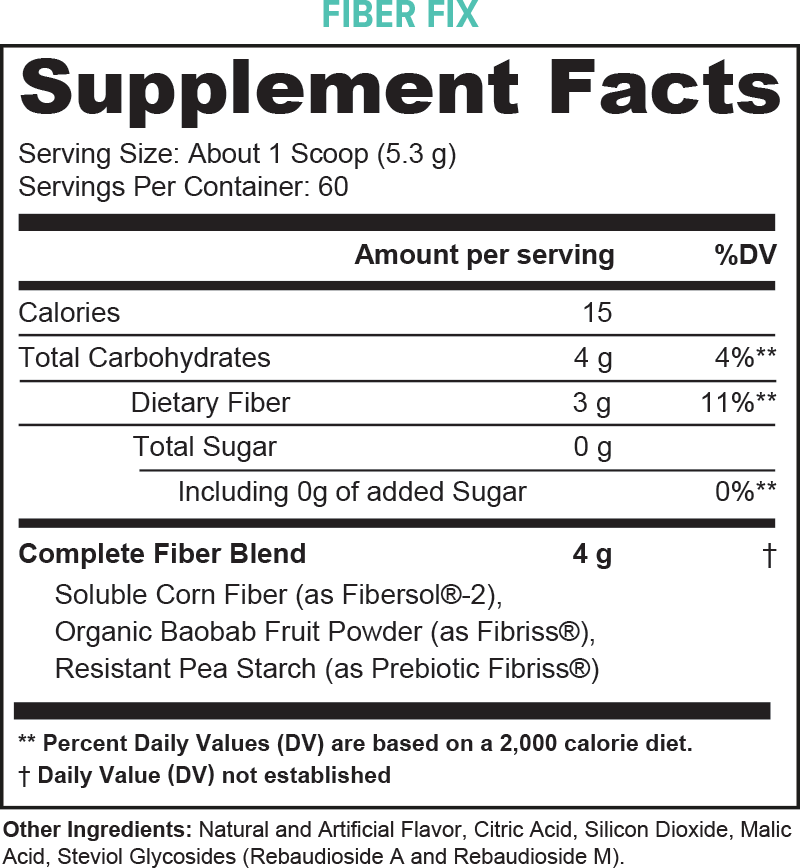 1 Bottle
$0.64 Per Serving!

$38.24
$44.99
Free US Shipping
Love it or send it back empty. T&C Apply.
Interest-free Payment Options Available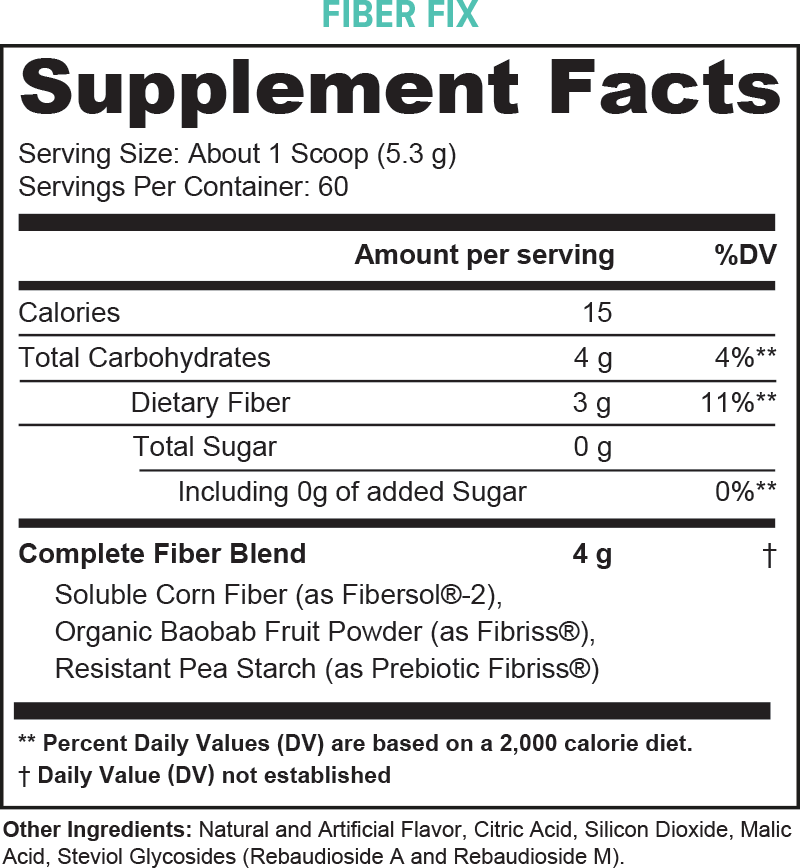 2 Bottles
$0.54 Per Serving!


$67.49
$89.98
Free US Shipping
Love it or send it back empty. T&C Apply.
Interest-free Payment Options Available
60 Day Money Back Guarantee
100% Secure Orders
We Get SHIP Done Fast. All Orders Ship Within 1 Business Day From Our Warehouse
In Eastern Pennsylvania and Arrive 2-4 Days After Your Order Date.
How to Enjoy