Plant Based Collagen Booster
Mix one serving (one scoop) of Plant Based Collagen in 8-10 oz. of cold water once daily. You may take Plant Based Collagen with or without food. Do not exceed more than 2 servings per day.
We offer
free
shipping for all domestic USA orders!
All domestic orders ship within one business day via USPS or UPS from our warehouse in eastern Pennsylvania. Most orders are received in
2-4 business days
.
Tracking information is sent via email from
hello@vitauthority.com
once your order is processed.
Scoop, Stir and Sip You Way to Vibrant, Glowing Skin
The synergistic blend of superfoods in Vitauthority's Plant Based Collagen is loaded with ingredients that help eliminate radiance robbing free radicals and support natural skin cell repair in an absolutely delicious Pink Lemonade flavor.

All-Natural
Vegan
Gluten-Free
Soy-free
Naturally-Flavored
Free shipping in the usa
Scoop, Stir and Sip Your Way to Vibrant, Glowing Skin†
Finally, a plant-based option that naturally builds collagen from the inside out! Vitauthority's delicious plant-based collagen drink provides all-natural, vegan friendly superfoods that have been shown to provide the necessary nutrients and antioxidants that support your body's natural collagen production.
Years of stress, poor nutrition, chemical exposure, sun exposure and aging can wreak havoc on our skin, causing dehydrated skin that looks lifeless and dull.
The synergistic blend of superfoods in Vitauthority's Plant Based Collagen is loaded with ingredients that help eliminate radiance robbing free radicals and support natural skin cell repair.
Stimulate Collagen
Production Regain & maintain glowing skin by supporting natural collagen production.†
Hydrate Skin
Hydrated skin maintains elasticity better, minimizing fine lines & wrinkles.†
Eliminate Free Radicals
Rebuild damaged, aging skin with powerful antioxidants.†
Support Glowing Complexion
Less free radicals and more antioxidants leads to less redness and acne.†
Plant-Based vs. Animal-Based:
What's The Difference?
One of the most common questions we get is what are the differences between our Multi Collagen Protein + (or any collagen product) and our Plant Based Collagen Booster.
The truth is, true collagen in it's finished form can't be derived from plant sources, the only way to get it is from animal sources. The next best thing is to boost your own natural collagen production which you can absolutely do with our Plant Based Collagen Booster.
Multi Collagen Protein + derived from free-range animal sources:
Grass-Fed Bovine
Farm-Raised Chicken
Wild Caught Marine
Eggshell Membrane
Multi Collagen Protein + contains usable, absorbable collagen protein that the body can use right away.
Plant Based Collagen Booster derived from plant-based sources only, such as:
Lemon
Camu Camu
Tremella Mushroom
Kiwi
Pomegranate
Plant Based Collagen Booster doesn't contain collagen specifically, but it's unique blend of ingredients help improve the body's ability to naturally produce its own collagen and eliminate age-causing free radicals by increasing antioxidant capacity.†
For anyone who practices a plant-based, Vegan focused diet, our Plant Based Collagen Booster is the PERFECT solution to receive similar benefits that animal-based collagen products deliver
Naturally Hydrate & Repair Skin With These 9 Superfoods
Lemons are rich in vitamin C and citric acid, so they can help brighten and lighten your skin when used over time. Vitamin C is a great antioxidant for neutralizing free radicals and boosting collagen production.†
The extracts found in Tremella Mushrooms are potent antioxidants and natural moisturizers which can also help to naturally brighten the skin, lighten age spots and even out the overall skin tone.†
Coconut water can help improve hydration, leading to more hydrated skin but also acts an anti-inflammatory, detoxifier and an antimicrobial—all of which can decrease acne.†
Rich in antioxidants, pomegranate neutralizes the effect of free radicals in our body. Pomegranate also helps stimulate the growth of skin cells and may help in cellular regeneration, reducing wrinkles and improving firmness.†
Also known as Gooseberry, Amla has been shown to help reduce dark spots and boost the production of collagen, which in turn helps to keep your skin smooth and young.†
Camu camu berries, which are native to the Amazon region, contain about 30 times the amount of vitamin C found in oranges. They're also rich in ellagic acid, an antioxidant that can help protect skin against free radicals.†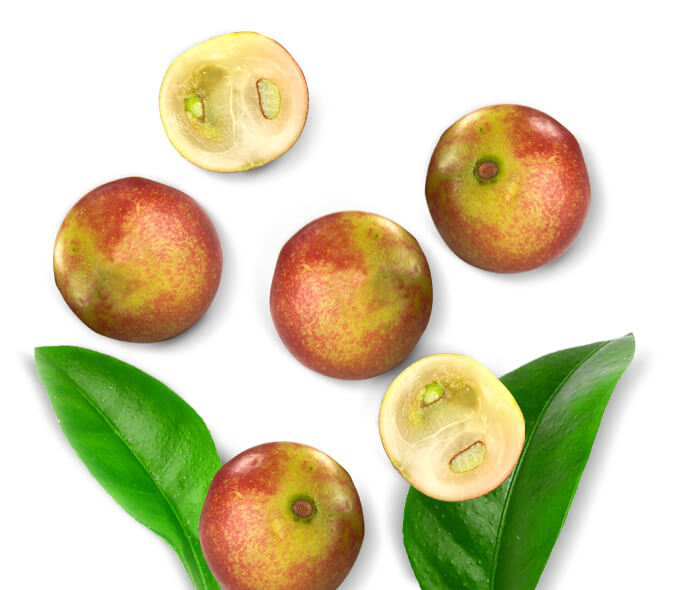 Kiwi's have been shown to increase collagen production and brighten skin. Kiwis also pack a vitamin E punch as well, which helps fend off free radicals and smooth skin.†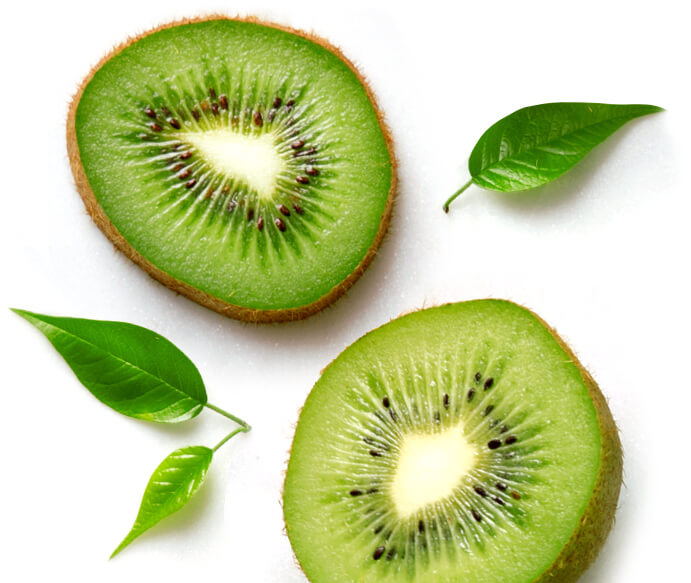 Spectra™ is a plant-based, scientifically validated formula of fruits, vegetables, and herbs shown to inhibit free radical production and optimize cellular metabolic activity within the human body.†
Hyaluronic Acid helps reduce the visibility of fine lines and wrinkles by improving the skin's ability to retain moisture. When the skin is protected and hydrated, increased skin cell production can take place, as the skin isn't busy fighting for hydration.†
A Patented Antioxidant Powerhouse:
Spectra Total ORAC Blend™
Why do antioxidants matter for skin health? Antioxidants protect skin by limiting the production of free radicals, which can damage skin cells. Reducing free radicals and increasing antioxidant potential has been shown to support:
Anti-Inflammation
Reducing inflammation promotes a more even skin tone and helps keep acne and wrinkles at bay by increasing circulation and cell metabolism.†
Skin Firming
Antioxidants may actually reverse the effects of aging by improving skin health and rejuvenating its appearance.†
Reduced Fine Lines & Wrinkles
Skin-care products with antioxidants can help plump out the skin and make it appear more youthful.†
Repair of Sun Damage
Sun damage can make skin appear tough and wrinkled. Antioxidants that stimulate blood flow in the skin can help encourage the growth of new cells and make sun-damaged skin appear younger.†
When it comes to antioxidants, Spectra Total ORAC Blend™ is a powerhouse that has been clinically validated to increase antioxidant capacity in the human body
It's simple: less inflammation & less age-causing free radicals means healthier, glowing skin and pain-free joints.
See Why Thousands are Choosing
Vitauthority over the Competition†
*Vitauthority is not affiliated with any third party products or brands displayed and trademarks shown are the property of their respective owners. All information was found on respective brands websites.
How to Take
One Scoop
8 - 12 OUNCES
OF WATER
SIP & ENJOY AT LEAST ONCE DAILY
cGMP
Quality We are proud to say that Multi Collagen is manufactured in the USA in a cGMP certified facility.
MANUFACTURED IN THE USA
Each of our supplements are manufactured and shipped from right here in the USA.
Non-GMO
Multi Collagen is free from any GMOs, Pesticides, Heavy Metals, or Contaminants.
Lab Verified
Every product is tested rigorously to ensure everything on the label is in there - nothing more, and nothing less.
Love it

OR SEND IT BACK EMPTY GUARANTEE
We're so confident that Plant-Based Collagen will help you regain and maintain your youthful glow that we back up every bottle with our 60-day money back guarantee!
Yes, it does! Our Plant-Based Collagen blend helps support natural collagen production.
You can read about our 9 powerful superfoods above, but in short, Plant-Based Collagen contains all-natural vegan-friendly ingredients that help the body stimulate its own natural collagen production and eliminate age-causing free radicals by increasing antioxidant capacity.
Multi Collagen Peptides provides actual, usable collagen from grass-fed bovine, FARM-RAISED CHICKEN, eggshell and wild caught marine, which typically provide faster results since the "finished" product (collagen) is being provided. Whereas Plant-Based Collagen provides the necessary nutrients for your body to produce the "finished product" (collagen) naturally. Similar results are achieved with both, but Plant-Based Collagen needs time to help your body increase it's natural production. This is why we offer a 60 day money back guarantee.
Results are dependent on the user, and things such as diet, water intake, and how much exposure your skin has had to sun and other chemicals will depend on the quickness of results. For some, results are seen in 4-6 weeks. For those who follow a cleaner diet and drink plenty of water, results can be seen in as little as 2-3 weeks in the form of improved skin hydration, increased elasticity and/or improved complexion.
Yes! Our Plant-Based Collagen works very synergistically with our Multi Collagen Peptides! Multi Collagen Peptides provides 5 types of collagen from 4 all-natural sources, increasing your total daily collagen for improved skin, hair and joint health. Our Plant-Based Collagen works alongside it, increasing your natural collagen production as well which provides a 1-2 punch for increasing your collagen levels. Please note: our Multi Collagen Peptides are NOT vegan.
Mix one scoop in 8-12 ounces of cold water and sip your way glowing skin! Multiple servings may be had to accelerate results.
If maintaining a high level of natural collagen production is your goal, we recommend continued, consistent use.
No - we offer both one-time purchase options and subscription based orders. If you choose to subscribe, you can receive automatic discounts and free shipping on your subscription orders. You may also cancel your subscription anytime by logging into your account or emailing our team at hello@vitauthority.com