I love this product. It taste really good not chalky and no after taste. It lives up to its claims too. I am down 10 pounds and my skin is much smoother.
I started using the burn about 2 months ago. I can see a difference in my weight and skin. The wrinkle in my forehead is fading. I will be 57 next March and feeling awesome. I love the energy I get after putting 1 scoop in my coffee, before I start my morning workout.
My knee pain subsided after a few weeks of taking the collagen and I was sold! Later I noticed my skin felt smoother and my cellulite was clearing up! I moved on to different Vitauthority products and keep falling in love with each one.
I switched to Vitauthority collagen burn about 2 months ago. After a couple weeks I noticed my hair brush had A LOT LESS hair in it. Also, I'm not shedding all over anymore.
As we age, we need more collagen
A decline in our body's natural collagen production is what causes the effect of aging.
We give you more than just collagen
Loaded with all the good stuff
Hyaluronic Acid
to moisturize skin*
Vitamin C
for glowing skin*
Fucoxanthin
for metabolism*
Ashwagandha
for cortisol support*
Olive Leaf Extract
for thyroid support*
SOD B DIMPLESS®
to reduce cellulite*
Show more about these ingredients →
How Multi Collagen Burn Stacks Up
Burn Body Fat & Smooth Cellulite With Every Scoop
1 Bottle
30 Day Supply ($2.00/day)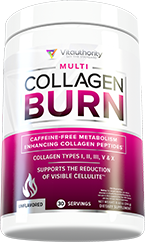 $59.99
Free Shipping
Love it or send it back empty
Interest-free Payment Options Available
3 Bottles
Buy 2, Get 1 FREE!
90 Day Supply ($1.33/day)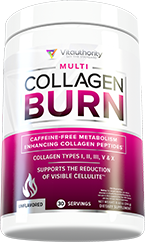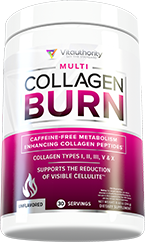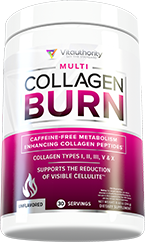 $119.98
$179.97
Free Shipping
Love it or send it back empty
Interest-free Payment Options Available
We actually care about our formula
✓ Dissolve easily
✓ Caffeine-free
✓ Gluten-free
✓ Zero carbs
✓ Zero sugar
✓ No artificial flavors
✓ No artificial dyes
✓ Dairy-free
✓ Non-GMO
✓ Amino acids
✓ 5 Types of collagen
✓ Our collagen is from natural sources, including grass-fed beef, farm-raised chicken, wild-caught Fish, & Eggshell membranes.
✓ cGMP Quality
Burn gets around
For best results
Vitauthority is not affiliated with any third party products or brands displayed and trademarks shown are the property of their respective owners. Images and written testimonials are taken from customer submitted content. Pictures, names and statements may not be synonymous to protect customer privacy. This means that an image associated with a submitted written testimonial may not be from the same person..

^with healthy eating and exercise