Real People, Real Results
Living Deliciously It's very refreshing on a hot day. If it's too sweet... just add more water to stay hydrated.
First off let me say this stuff actually works! I'm a real testimony! It's been so great on my body, my skin glows! My cellulite is tightening up, I also work out a lot more because this product has legit allowed me to!
Oh my goodness. I'm loving this stuff. I've lost about 30pounds and have kept it off for a year now. This has helped with my menopause belly❤️ I'm forever a customer
From mid-March to mid-June, I lost 13 lbs and several inches from my belly. My nails look great, my hair is breaking less and my cellulite is less noticeable. I have tried to maintain a calorie deficit each day, with a few exceptions, (cheat days have to happen to keep me sane🤣)
I've noticed my face appear more youthful with the fine lines on my forehead decreasing. My cellulite has diminished and my stretch marks are fading rapidly! My metabolism has increased and my appetite is under control. I only eat when it's time for a meal and I'm not overeating. Burn has also eliminated my bloat problem!
As we age, we need more collagen
A decline in our body's natural collagen production is what causes the effect of aging.
We give you more than just collagen
And it's loaded with even MORE good stuff
Hyaluronic Acid
Helps keep skin hydrated and plump, reducing the appearance of fine lines and wrinkles. It may also help improve skin elasticity and texture.*
Vitamin C
Research suggests that vitamin C may help protect the skin from many issues, including sunburn, photoaging, hyperpigmentation, wrinkles, sagging, dryness, and an uneven skin tone.*
Fucoxanthin
Studies in both animals and humans have demonstrated that supplementing with fucoxanthin increases resting energy expenditure, reduces body weight, and decreases abdominal fat storage.*
Ashwagandha
Sensoril® ashwagandha extract supports cognitive health with clinically studied benefits for stress, sleep, mood, energy and focus. It also helps reduce cortisol, which can support fat loss.*
Olive Leaf Extract
Early studies show that the oleuropein in olive leaf extract prevents unwanted weight gain and reduces the risk of obesity.*
SOD B DIMPLESS®
SOD B Dimpless® is the only active ingredient that specifically targets cellulite and the only one with clinical evidence to reduce cellulite by oral route and is exclusive to Vitauthority.*
Real People, Real Results
My knee pain subsided after a few weeks of taking the collagen and I was sold! Later I noticed my skin felt smoother and my cellulite was clearing up! I moved on to different Vitauthority products and keep falling in love with each one.
I love Vitauthority because their products are so clean. You can tell they use quality ingredients! Regardless of what my fitness goals are each month they have a product to help meet my needs.
Helps me feel full longer, manages weight + hormones, has improved my skin, joints, and recovery from workouts ❤️❤️❤️
Collagen burn has become a non negotiable in my supplement routine. My hair and nails are growing like crazy, and my trouble areas for cellulite (back of thighs) have gotten smoother!
It's a No Brainer
If for any reason you decide this product isn't for you, we offer a 60-day money back guarantee. (But we know you'll love it)
Burn Body Fat & Smooth Cellulite With Every Scoop
1 Bottle
30 Day Supply ($2.00/day)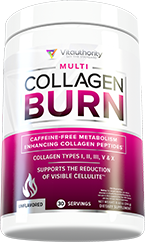 $59.99
Free US Shipping
Love it or send it back empty. T&C Apply.
Interest-free Payment Options Available
One-Time Purchase Only. No forced subscriptions!
3 Bottles
Buy 2, Get 1 FREE!
90 Day Supply ($1.33/day)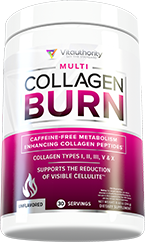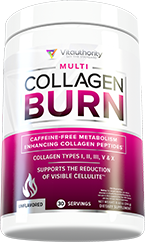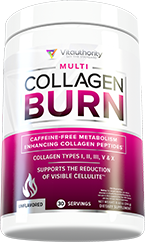 $119.98
$179.97
Free US Shipping
Love it or send it back empty. T&C Apply.
Interest-free Payment Options Available
One-Time Purchase Only. No forced subscriptions!
✓ Dissolves easily
✓ No artificial flavors
✓ No artificial dyes
✓ Amino acids
✓ 5 Types of collagen
✓ Our collagen is from natural sources, including grass-fed beef, farm-raised chicken, wild-caught Fish, & Eggshell membranes.
✓ cGMP Quality
For best results
Vitauthority is not affiliated with any third party products or brands displayed and trademarks shown are the property of their respective owners. Images and written testimonials are taken from customer submitted content. Pictures, names and statements may not be synonymous to protect customer privacy. This means that an image associated with a submitted written testimonial may not be from the same person..

^with healthy eating and exercise